What is Reflexology?
Reflexology is a non-intrusive holistic healthcare system which treats the whole body through the feet and  hands. It can be a gently effective way of relaxing mind and body, reducing the effects of stress, soothing the nervous system and encouraging your body's natural healing mechanism.
It is based on the principle that there are 'reflex' points on the hands and feet (also lower legs, face and ears) that map onto all organs, glands and areas of the body.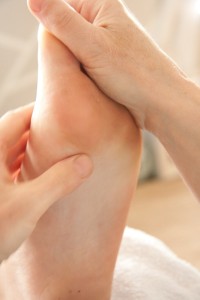 By working these reflex points using particular techniques a natural balancing of the body's systems appears to come about often improving a person's health and sense of well-being.
A short history of Reflexology
Foot and hand treatments have been used for millennia and so modern Reflexology has ancient and geographically diverse origins such as Ancient Egypt, China and Native American cultures too.
Dr William Fitzgerald, an American Ear, Nose and Throat specialist who had travelled to Vienna in the early 20th Century was influenced by the theory of Zone Therapy, again an approach with ancient origins based on the principle that the body is divided into zones with corresponding areas in each zone.  The practice of Acupuncture is also based on a principle of zones.  Returning to America Fitzgerald discovered in treating his patients that by applying pressure to certain points on the body an anaesthetic effect was sometimes produced rather like the effects seen sometimes in Acupuncture and consistent with a system of zones.
Dr Shelby Riley worked closely with Fitzgerald and developed this Zone theory further by mapping further horizontal zones on hands and feet and isolating particular reflex points.  A physiotherapist working with Riley, named Eunice Ingham carried this investigation on still further, developing an intricate map of reflexes on hands and feet through.  Through her work with hundreds of patients and methodically checking and mapping the reflexes she developed specific ways of working the reflexes in a way now known as The Ingham Method of Reflexology.
How can Reflexology help you?
Reflexology can promote a deep sense of relaxation, reducing stress and tension and in turn helping with many stress related physical and emotional issues such as:
~ poor sleep patterns/insomnia
~ headaches and general muscular aches and pains
~ 

anxiety
 and
 depression
~ digestive issues
~ hormonal imbalances
~ fertility
issues
Your treatment
Your first session will be longer than follow-up sessions so that I can gather a clear picture of your health background, your lifestyle and any thing else relevant that has lead you to coming for treatment.  This is a holistic treatment so we may look at making the connections between how you are feeling physically and emotionally as well as any lifestyle issues, patterns of stress and dietary habits which may be contributing to any physical issues you might be having.
You will then be able to relax back in a comfortable reclining chair to receive your treatment for an hour.
To book a treatment or for more info give me a call on: 07903 650998
I also offer home visits are in the Bristol and Stroud area 
please 
contact me
 to discuss this if this is preferable.
Testimonials:
"Sophie is a wonderful reflexologist. I went to her with fertility issues. She gives a wholistic approach, helping me understand my cycle, the way my body worked as well as giving me emotional support. Obviously, the reflexology was relaxing and wonderful, but Sophie's sessions give you so much more than that. It helped me relax, understand my own body and give me space to be mindful about my life and situation. I am now 6 months pregnant and still seeing Sophie regularly. I couldn't recommend her more. "
Jemma C. Bristol
"Sophie is a patient, insightful practitioner who has truly supported my health. I highly recommend her reflexology appointments; they leave me feeling refreshed, relaxed and centred."
Anne C., Bristol
Sophie has provided 3 sessions of reflexology for me and each one has been delivered in surroundings helpful in developing a comfortable and relaxing environment. The process was fully explained at the initial consultation so I knew what to expect and Sophie herself was quietly competent in carrying out the process whilst making sure I was providing the necessary feedback to help her meet my needs ( and to make sure I had achieved the most out of each session which I did – my feet in particular felt wonderful!) I would recommend Sophie without hesitation.
Wendy, Glos.